Já virou tradição aqui na GameFM eu fazer um post especial destacando a trilha sonora de Forza Horizon assim que um novo jogo sai, inclusive sendo até hoje alguns dos posts mais vistos aqui no site, o que certamente é bem curioso.
Quem me conhece sabe que Forza é uma série muito especial para mim, e Horizon mais ainda. Apesar dos últimos jogos não terem mais aquele mesmo brilho dos primeiros (na minha opinião), eles ainda trazem experiências que nenhum outro jogo de corrida no mercado é capaz de proporcionar, principalmente em termos musicais.
Com Forza Horizon 5 já indo a gold e bem próximo do lançamento, finalmente temos a lista completa de músicas para darmos aquela esquentada antes ligarmos os motores.
Dessa vez serão 6 rádios e quase 120 músicas selecionadas para curtir as mais belas paisagens do México. Vale a pena comentar a presença de artistas mexicanos, inclusive na rádio de músicas clássicas, o que é sempre positivo ao meu ver, para dar aquela pegada mais cultural. Curioso ver também que meu gosto musical foi mudando (ou o jogo foi mudando?) e apesar de ainda gostar muito da Horizon Bass Arena, sou totalmente Horizon Pulse atualmente. E claro, Hospital Records está sempre lá também para nos agraciar. Tem MUITA coisa boa na trilha sonora desse ano, recomendo conferir bem. Fica até difícil eu citar os artistas que já conheço, mas temos desde Gorillaz e Foo Fighters até mesmo Dua Lipa. E claro, os sempre mais obscuros também que merecem muito carinho como LUXXURY, Young & Sick e CloudNone.
Como estamos no futuro agora, todas as trilhas sonoras já estão disponíveis no Spotify, o que certamente facilita muito a vida de todo mundo hehe. Listas e links abaixo.
E pra finalizar vou fazer aquele jabazinho. A maioria de vocês já sabe da existência do Eletrika, meu programa de música eletrônica. Sempre convido vocês a dar uma conferida, todos os episódios faço com muito carinho e com certeza tem uma mixtape que vai fazer você curtir a noite. E já garanto que pouco tempo depois do lançamento de FH5 teremos um episódio especial para o jogo. Confira os episódios do Eletrika clicando aqui.
Horizon Pulse:
Ao longo dos anos a Pulse foi tendendo para o House, Deep House e NuDisco, apesar desse ano termos pop também. No geral são ritmos um pouco mais lentos, mas absolutamente deliciosos de se ouvir. Fica difícil destacar tudo que gosto dela, haha.
El Punto Final – Centavrvs
Weekends – Classixx, Local Natives
Afrika – Clubz
Cool Up – De Lux
Suéltame, Bogotá – Diamante Eléctrico
Levitating – Dua Lipa
Heat Waves – Shakur Ahmad Remix – Glass Animals, Shakur Ahmad
All I Want – Kid Moxie, LUXXURY
The Valley Of The Pagans (ft. Beck) – Gorillaz
Straight To The Morning (ft. Jarvis Cocker) – Hot Chip
All Of The Time – Jungle
Feels So Good – LUXXURY
Full Heart Fancy – Lucky Chops
Everything at Your Feet (ft. The Chamanas) – ODESZA
Midnight Sun – OTR, Ukiyo
Look At The Sky – Porter Robinson
Where We Started – PRXZM
Hello Hello Hello – Remi Wolf
New Heartbreak – Sad Alex
Preach – Saint Motel
Fiebre – Sotomayor
Quema – Sotomayor
Sunshine (with The Knocks) – Whethan
Ohh My Ghosts – Young & Sick
–
Horizon Bass Arena:
Horizon Bass Arena é a cara do Horizon Festival, tocando as músicas mais porradeiras. Bom para quem curte um eletrônico mais pesado.
Joypunks – Big Wild
Get To Know You – Dexter King
Mrita (Margarita) – CloudNone & Direct
Channel 43 – Radio Edit – deadmau5, Wolfgang Gartner
Color – Grant & Juneau
Rock You (Lenno Remix) – Dirty Loops, Lenno
Baile Funk – GAJATE
Tell Me (Ellis Remix) – Haywyre
In The Summer (ft. Jaymes Young) – Whethan
Colours (ft. Olan) – Mat Zo
Everything You Are – Midnight Kids
Techtonic – Metrik
Into The Light – Notaker
Dreamcatcher (ft. MIKO) (Night Mix/Nightfall) – Robotaki
Fade – Rome in Silver
Roses – Imanbek Remix – SAINt JHN, Imanbek
Jungle Fury – RIOT
One More (ft. Nile Rodgers) – Mark Knight Remix – SG Lewis, Nile Rodgers, Mark Knight
Foolish Of Me (ft. Jonathan Mendelsohn) – Seven Lions, Jason Ross, Crystal Skies
–
Hospital Records:
Desde Forza Horizon 2, a Hospital Records é presença garantida no festival Horizon. Muito drum & bass e artistas totalmente obscuros para você viajar e curtir!
Communications – Keeno
Burn Out – Kings Of The Rollers
Illusion Of Time – S.P.Y
Naperone – Etherwood
Unwritten – Degs
Utopia – Metrik
Alone (feat. Ruth Royall) – Grafix
Deckard's Chords – Hugh Hardie
Black Magic (with Dynamite MC) – Grafix
Trial Mountain (with Mitekiss) – Makoto
Turn Up – Whiney
Fly Away – Urbandawn
Boundless – Logistics
Skyscraping – Fred V
Bandicoot – Flava D
Magnetosphere – Unglued
Midwest Shuffle – Winslow
Another Star – Makoto
Route 174 – Metrik
Zaichik – Bop and Subwave
Second Time Around – Nu:Tone
–
Horizon Block Party:
Block Party vem esse ano trazendo o melhor do hip-hop, R&B, rap e dance music, com muitos representantes do México!
Intergalactic – Remastered – Beastie Boys
Platinum – Big Freedia
Soy Yo – Bomba Estéreo
I Know I Got It (ft. Haviah Mighty) – Book
Un Sueño (ft. Aloe Blacc) – Ceci Bastida
Turn The World Around – Daemon
Rocket Fuel (ft. De La Soul) – DJ Shadow
Brand New Phone – Ellis, Pasha
Industry Baby – Lil Nas X & Jack Harlow
Vamos – Mexican Institute of Sound, BIA, Duckwrth
Baila – Monica Lionheart
Say Hey! – Outasight
Juana La Cubana – Ozomatli
Carnaval Artificial (Out of The Sky) – Random Recipe
It's Like That (Jason Nevins Remix) – Run-D.M.C
Star Dust – Shwayze
No Skips (ft. Ralph Real) – Oddisee
–
Horizon XS:
A clássica rádio de rock do festival Horizon. Trazendo muita coisa boa esse ano com The Killers, Foo Fighters, Royal Blood, Nothing But Thieves e mais.
Karma The Knife – Angelica Garcia
Do It Better – Blah Blah Blahs
You Can Get It (ft. K.Flay) – Arkells
Getaway – Bite The Buffalo
Teardrops – Bring Me The Horizon
10 Day Miracle Challenge – Death Valley Girls
Under The Sun – DIIV
La ciudad – El Shirota
Holding Poison – Foo Fighters
No Son of Mine – Foo Fighters
Unsaid – Maxband
I Wanna Connect – Melted Brains
Unperson – Nothing But Thieves
Live More – Plague Vendor
Antidote To Being Bored – Oscar Lang
New Comedown – Plague Vendor
Trouble's Coming – Royal Blood
Freak – SOFI TUKKER
Mejor Que Nadie – Technicolor Fabrics
Caution – The Killers
Wild Child – The Struts, Tom Morello
Smile – Wolf Alice
–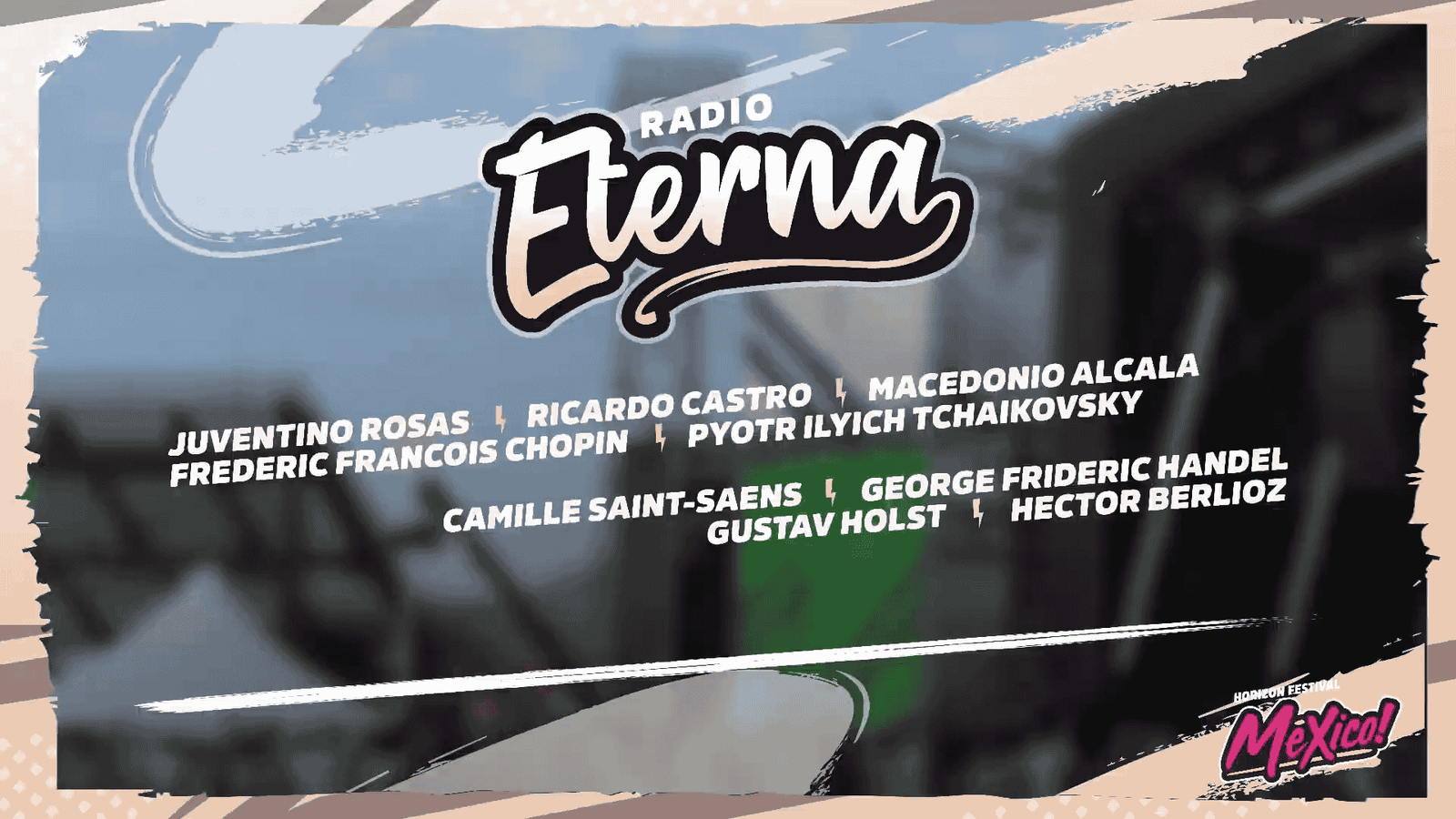 Radio Eterna:
Por fim temos a já tradicional rádio de música clássica, para aqueles que querem apenas relaxar e deixar a mente viajar pelas paisagens do México. Destaque para compositores mexicanos marcando presença! (Essa aí eu que tive criar no Spotify, mas tá valendo, hehe)
Water Music Suite No.2 in D Major – HWV 349- II. Alla Hornpipe – Georg Handel
Sobre las Olas – Juventino Rosas
Carmen – Juventino Rosas
Mars: Bringer of War – Gustav Holst
Nocturne Op.9 No.2 – Frederic Chopin
Danse macabre – Camille Saint-Saens
La damnation de Faust – Marche Hongroise – Hector Berlioz
–
Ufa, mas é isso! Aí estão novamente todas as músicas de Forza Horizon 5, seguindo nossa tradição. Espero que curtam tanto ouvindo quanto curti fazendo esse post. Nos vemos em Forza Horizon 6!